SARAH LITE
Introduction to Sarah Lite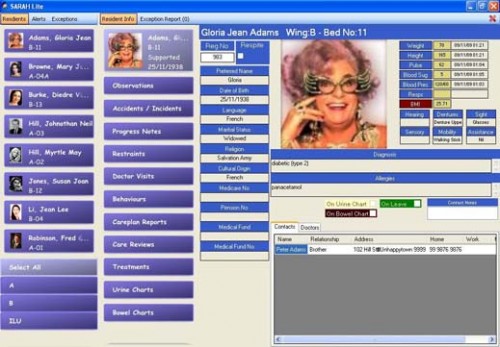 Sarah Lite is software designed to operate on the Motion C5 tablet. Sarah Lite makes it easy for staff to do entries on the run with no need to return to a PC every time they need to complete a urine entry or progress note. Sarah Lite is designed to cut data entry time, as well as alerting staff that attention is required on various tasks.
Features of Sarah Lite
Sarah Lite allows users to do the following from any location, connected or disconnected from the network.
Progress Notes
Incident Logging
Wound Assessment and Photos
Observations
Doctor Visits
Treatments
Care Plan Reviews
Viewing Careplans
Restraint Reviews
Behaviour Charts
Urine Charts
Bowel Charts
Excpetion Reports
Day Book / Communication Diary
Sarah Lite Built In Alerts
Sarah Lite keeps staff informed by alerting them of the following items.
When Bowels not opened for a period of time
Treatments Due
Vaccinations Due
Open Incidents
Urinalysis alerts
BP Alerts
BSL Alerts
Temperature Alerts
Weight Alerts
Diet Change Alerts
When Residents have not had a visit from their GP
When Residents have not had progress notes done for some time
Multi list items (showers etc)
Todays urine charts
Todays Bowel Charts
Using Sarah Lite
Sarah Lite uses glide technology so that scrolling through residents is a case of sliding your pen up the screen.
Sarah Lite DOES NOT REQUIRE A CONSTANT CONNECTION to the network. It uses casual connectivity to synchronise its data when the connection is strong
Sarah lite is ideal for the floor
The Motion C5 is tough and is guaranteed to survive falls of up to 90cm
Staff can literally write their notes directly to Sarah Lite and text recognition is excellent. It will even recognise the most illegible writing. (Excluding Doctors)
The Motion C5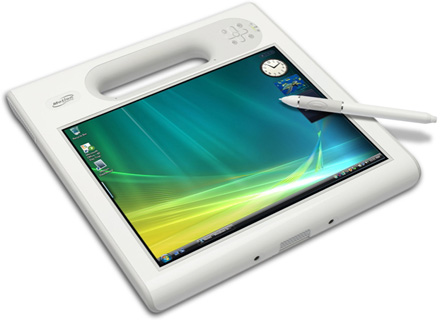 Rugged
Rugged design can be easily disinfected for a demanding healthcare environment.
Ergonomic
Designed to be comfortably carried all day.
Integrated
Integration of components for dramatic improvement in clinician productivity and reduction of errors.
Integrated
Can be used in almost any hospital environment with several docking and mounting options.
Key Features and Options
Rugged, highly durable design with magnesium-alloy internal frame and elastomer overmolding
Highly sealed, disinfectable chassis
Optional embedded mobile broadband (WWAN)
Optional integrated 1D/2D barcode scanner
Integrated 13.56MHz RFID reader with ISO 15693 support
Integrated 13.56MHz HF passive RFID tag
Integrated 2.0 Megapixel Camera
Optional smart card reader
One-year standard warranty (upgradeable to two or three years)
Newest Display Technology with AFFS+ LED Backlight
Optional Gorilla™ glass for increased display damage resistance
Optional View Anywhere® Display
Motion® DataGuard™

Talk to a SARAH Representative